St. Petersburg Florida, one of the sunniest cities in the US year-round, is a beautiful spot to visit for relaxing beach days and exciting downtown nights. Within St. Petersburg though, there are several great areas to consider staying in. While Downtown St. Petersburg, Madeira Beach, and Treasure Island are all different from each other, they all have incredible benefits! Luckily, while you may choose one to stay at, you can definitely make sure to visit all three. Read on for the most important details about staying in each of the best parts of St. Petersburg!
Downtown St Petersburg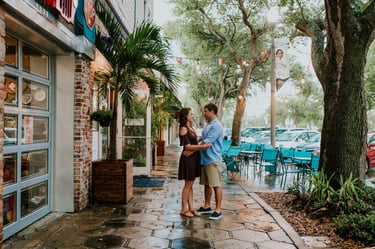 Downtown St. Petersburg is arguably the most lively choice of areas to stay in St. Petersburg, but also the most accommodating! Downtown St. Pete's boasts both the stores, pubs, clubs and restaurants of authentic American city downtown, as well as easy access to the waterfront and beaches that make St. Petersburg so special. Downtown St. Pete's is extremely walkable and one of its best characteristics is that you won't need a car to get from place to place. While walking say, from your hotel (on the beach or closer to the downtown stores), to say, the new St. Pete Pier district for waterfront shopping and dining, you are likely to see dozens of street murals that also make St. Pete's unique. St. Pete's main road is Central Ave, which houses award-winning restaurants and bars, and is not far from a specialty of downtown St. Pete's, the Dalí museum. If you are looking for a lively place to stay, with access to the essence of all that is St. Pete's, Downtown St. Petersburg is the place for you!
Madeira Beach

However, if you are looking for more of a beach-town vibe, then Madeira Beach is the perfect place for you to stay. Madeira Beach, lovingly referred to as "Mad Beach" by the locals is a hybrid between a Florida Fishing Town and a lively downtown. Madeira Beach is also known as the "Grouper Capital of the World," so you can imagine that the seafood offered in practically every restaurant is as fresh as can be. One of the best places in Madeira Beach to get some of this straight-from- the- dock seafood is John's Pass Village Boardwalk. John's Pass houses over 100 shops and restaurants on the Madeira Beach waterfront and even hosts one of America's best seafood festivals every October. Additionally, there are several waterfront hotels, as well as bungalow and cottage type rentals available to visitors. If you are looking for something a bit more small fishing town and a bit less city, further off the beaten path than Downtown St. Petersburg, Madeira Beach is the perfect place for you.
Treasure Island

Finally, Treasure Island, which sounds like a setting out of your favorite childhood book, is one more great area of St. Pete's to explore staying at. Treasure Island is an area of over 3 miles of white sand, blue water beaches off the Gulf of Mexico. With both luxury resorts and economical condo rentals available, it is the best place to stay if your main focus in visiting St. Pete's is snorkeling, shelling, and all things beaching.