Getting around St. Pete Beach can be a challenge in the busy season, with more than 6.5 million vacationers descending on the area each year. Uber and Lyft are always decent options, but may not know the area, restaurants, and tricky beach drop-off and pick-up points. Furthermore, they may be subject to surge pricing that will cost you an arm and a leg during happy hour or typical hotel weekend check-out times. Here's a list of the top transportation options for the St. Pete area. Whether it's a beach trip, restaurant drop-off, or airport pick-up, we've got you covered.
Freebee Shuttle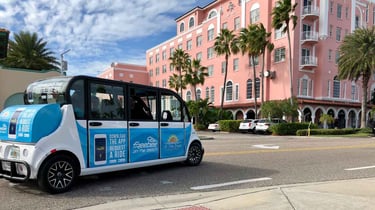 Freebee is a free, on-demand transportation service, brought to you by St. Pete Beach! The vehicles are electric golf carts that you'll see zipping between the high-traffic beach zones. There's no way to call ahead or schedule a ride, so just raise your hand and flag one down the old-fashioned way. Drivers are compensated courtesy of the City of St. Pete Beach. It's completely free to you, even the tip. In fact, per the City's wishes, gratuities cannot be accepted for service. And if you're sandy, don't worry...it's meant for beachgoers!
This is our vote for best transportation option for beach trips.
Free Island Hopper

Free Island Hopper - They are a free shuttle service that operates from from Pass-A-Grille (St. Pete Beach) mile marker 0 to 150th Ave in Madeira Beach mile marker 9 ½, including all off Treasure Island. They own a fleet of 4 minivans which can each hold up to 7 passengers. All you have to do is call 15 to 20 minutes in advance and a driver will be dispatched to your area. There's no fixed or variable cost per ride, as the drivers work purely on tips. They'll offer a local's perspective on the area, including the best places to catch a sunset.

This is our vote for best transportation for going to dinner.

Bats Taxi

Bats Taxi - This company is great for airport rides. You can schedule a ride online or over the phone. Bats is a good option if you want a fixed price option for transportation. The company has been around since 1981 and knows all the shortcuts around the area. Bats also caters to corporations and is a good option if you are mixing business with the beach.

This is our vote for best transportation option for getting to the airport.