St. Petersburg Florida is known as one of the best beach cities in the United States with year-long sun and temperate weather. St. Petersburg glistening blue waters and white sands are a sight for sore eyes standing on the ground, but they are even more magnificent from up above. Lucky for us there are several aviation tours over St. Petersburg to provide the best view of the best beaches.
Executive Helicopter Tours St. Pete's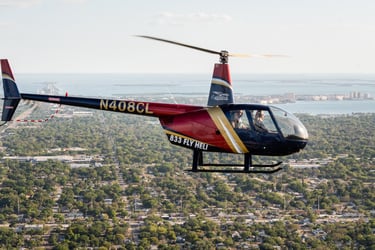 Executive Helicopter tours can cover all of your helicopter travel needs, and carry you to new heights to see Pinellas County (where St. Petersburg is located) in comfortable style. Executive Helicopter tours offer a wide range of tour types and prices to choose from, ranging from 5 minutes to 60+ minute tours. Check out each of their options below:
Downtown St. Pete's Tour
The St. Petersburg Isle Tour
The John's Pass Tour
The Skyway Tour
The Pinellas County Beach Tour
On Air adventures

On Air Adventures, St. Petersburg is a certified aviation company that specializes both in helicopter and airplane tours over St. Petersburg, all of which are currently one on one flights. A special feature offered by On Air Adventures are beautiful sunset flights so you can get closer to the beautiful colors as the sun sinks into the blue St. Pete's water. Additionally, if you are a pilot or aspiring pilot you can take flight lessons with On Air Adventures to become a private pilot or sport pilot.
St. Pete's Biplane Rides

Finally, St. Petersburg Biplane rides are a great adventure available out of the Albert Whitted Airport. Biplane Rides can hold two guests as well as a pilot, so enjoy the St. Pete's sky with a friend!