With all-year sun and a consistent amount of wind, St. Petersburg Florida has the perfect conditions for an eclectic surf scene. Whether you are a beginner or an expert in surfing, skimboarding, windsurfing, kite surfing, or wakeboarding, you can learn from instructors in St. Pete's! Enjoy our top 4 water sports lesson choices, and an extra recommendation in case you get hungry for more!
Soto Skim and Surf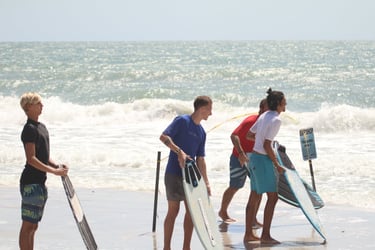 Soto Skim and Surf LLC. is your best bet if you are looking for the most economical and authentic surf lesson available in St. Petersburg. Soto Skim and Surf offer private skimboarding and surfboarding lessons for visitors and locals of all ages, taught by a young Skim and Surf enthusiast, college student Christian Soto. With years of experience and a great review track record, as well as wet suits and boards available for $10 rental, Soto's private skim and surf lessons starting at $30 are hard to beat.
North Beach Windsurfing

St. Petersburg is loved for many things, but one of the most important is its year-long fair weather. This weather makes St. Pete's conducive to windsurfing in the sun all year long! Through North Beach Windsurfing you can dive right into this exciting activity with private lessons or group lessons at an advanced rate. If you have been windsurfing before, then North Beach WindSurfing is still a great option as they offer advanced windsurfing lessons as well.
Elite Watersports

Elite watersports is your go-to business for all types of water activities in St. Pete's. Elite Watersports offers lessons in kiteboarding, hydrofoil, efoil, and wakeboarding. If you have never heard of hydrofoil or efoil before, I highly recommend searching up a quick youtube video and you will surely be calling Elite Watersports for a lesson. Elite watersports also offers rentals for all of your water sport needs.
Paddleboard Rental

Paddleboard Rental is another St. Petersburg favorite, offering surf lessons made by phone call. Island Action Sports also offers rentals for all the beach supplies you may need when traveling to St. Pete's, which makes them a great option to do business with!
And one extra.. Grove Surf and Coffee

While Grove Surf and Coffee does not offer surf lessons, they must not be overlooked by anyone going to St. Pete's who is interested in surfing. Grove Surf and Coffee is a "mixed concept space," which is part coffee shop and part surf-gear shop. For some energy and some surf-attire before your surf lesson, head over to Grove!