For centuries, humans have felt a certain thrill when riding a horse, and can you blame us? The regal feeling trotting through the world, the better views provided by some added height, and well, horses are really cute. Horseback riding just anywhere isn't enough though— to get the full experience, you'll want to ride somewhere that can provide you with truly unique experiences, like in sunny San Diego California. Whether you are looking to ride through a vineyard or down a dazzling beach, San Diego is arguably the best place to go on a horse-back adventure.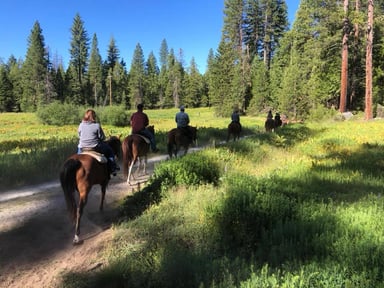 To begin, look no further if you're searching for a classic 1-hour horseback beach tour on the sandy San Diego shores. If you're in search of a more inclusive adventure, consider Big Schott Ranch, which is famous for its snack-filled saddles, and the option to travel through San Diego vineyards, of course, stopping to taste some wine.
For luxury, choose to ride with the Ranch at Bandy Canyon, part of a resort where you can visit pools and a spa after a long day of riding. For inclusion of any and all horseback riding experience levels, surf side ranch is a great option. Finally, if traveling with youngsters, Pony Land San Diego is the perfect option, as they offer pony rides as well as a petting zoo, along with classic riding experiences.
No matter the option you choose, horseback riding in San Diego is the perfect way to take in nature, relax, and have an adventure all at the same time. Enjoy your ride!