Maui is virtually synonymous with fun adventures to test your limits to the fullest. Carpe diem with the following Maui extreme tours that are guaranteed to get your blood pumping, test your limits, and make lasting memories for years to come!
Rock Climbing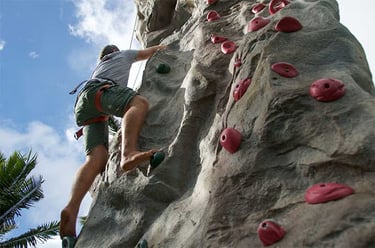 Mountain climbing is an extreme sport, so if you're up to the challenge, then choose Rappel Maui for your next adventure. Expert guides can help teach you how to wrap all down sheer cliffs, learn best practices of mountain climbing, and give you the skills to take on some of Maui's most coveted climbing challenges.
Zipline Adventures
Looking for an exhilarating but safe experience? Then choose a zipline adventure from the companies listed below. You'll be attached to a harness that propels you across Maui's gorgeous natural landscapes, scenic canyons you won't find anywhere else, and so much more:
Hang Gliding

Maui has favorable winds that make it a world class hang gliding and paragliding destination. The following companies will give you lessons in guidance to jump off a cliff and gently touchdown – for an adrenaline pumping experience like no other. Be sure to take your GoPro with you to share your adventure afterwards!

While you can skydive anywhere in the world, there's certainly something magical about skydiving over Msui. The companies listed below offer daily trips where you'll jump thousands of feet in the air and land safely with a tethered professional that will guide you safely to earth. Best of all, you combine an airplane tour of the natural landscape for 20 - 30 minutes before experiencing free fall, which makes this a great extreme trip on your next vacation to Maui.