The beaches in Maui are beautiful but swimming in the clear blue sea a miles off the coast is breathtaking. Maui's pristine beauty is best experienced from the sea. And there's no better way to see it than by hopping aboard a Maui boat tour. Let's take a look at some of the best Maui boat tours the island has to offer.
Catamaran Cruises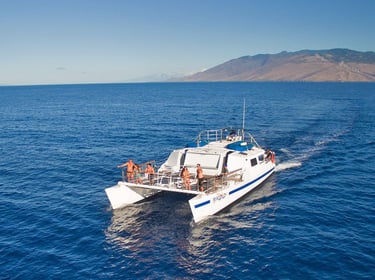 A catamaran cruise is designed with comfort in mind. These duel hold seagoing vessels offer a steadier ride – perfect for those who are susceptible to seasickness. The following companies offer a variety of scenic boat tours, including sunset cruises, lunch cruises, and day cruises in the waters around Maui:
Sailing Tours

The winds around Maui make it the perfect location for a sailing adventure. Expert captains will take you around the island, while narrating some of the natural wonders. Refreshments are available, making the sailing tours from Maui absolute paradise. Due to the popularity of sailing tours, make sure to make reservations beforehand.
Sunset Cruise
If you're looking for a romantic evening, why not sign up for a sunset cruise? The following companies offer on board refreshments and romantic atmosphere as the sun sets over Maui is pristine waters. Perfect for wedding anniversaries and proposals:
Whale Watching Cruises
The waters around Maui are the natural habitat of the worlds largest mammals, Wells. In order to experience them emerging from the water, sign up for a while watching cruises that are great fun for the entire family: