Pizza is a must for any beach vacation, especially after a long day in the sun with kids who may not want to sit through a long sit-down meal. We've been eating pizza in the area on a weekly basis for years, and compiled a list of our favorite spots to grab a quick bite.
Britt's Coal Fire Pizza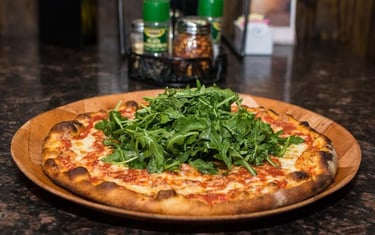 Britt's Coal Fire Pizza - This is a favorite for those visiting Treasure Island. Known for their coal-fired pizzas, porch dining, and custom salads, this is a great spot to quickly pop into if you're making your way back from the beach. If you decide to dine in, you'll be treated to some live jams from a guitarist. They deliver and offer takeout, but make sure you park next door in the grass parking lot to the left of the building, as there are limited spots out front.
Britt's is our vote for best coal-fired pizza.
Gigi's Pizza

Gigi's is everywhere you need them to be for your trip to the St. Pete area. They have locations on 4th Street in St Petersburg, Gulf Blvd in St. Pete Beach, and Treasure Island. They offer a broad menu, which of course features pizza, along with chicken dishes, casseroles, and spaghetti and meatballs.

Gigi's is our vote for all-around Italian Restaurant.





Giuseppe's Pizza

Giuseppe's Pizza - Located in the heart of Gulf Blvd, this is a spot for thick Sicician Thick Crust, White Pizza, specialty build your own pies. Giuseppe's is great if you are in a rush to get good pizza fast and a solid option to drop in quickly on your bike. Given their central location, they can reach most hotels quickly.

Giuseppe is our vote for best hotel delivery.
DeRusso's Pizza

DeRusso is the product of an upstate New York pizza entrepreneur, Marco. The unique and authentic tastes have been transported to Tierre Verde. The restaurant offers great dine-in options with specials on Tuesday (Lasagna) and Wednesday (Chicken Parm). The pizza knots travel well.

DeRusso's is our vote for best New York Style pizza.




Tuttorosso Pizzeria

Tuttorosso Pizzeria - Wings, Pizza, and Pasta are all great options for your family at Tuttorosso. Located on Blind Pass Road, they also offer healthy options including Gluten-free and a number of veggie options. They have one of the cleanest slices around, with meticulous details to toppings.

Tuttorosso is our vote for easiest online ordering.